MolStat

Gaussian Input/Output File Viewer
MD Simulation Visualizer/Animator

16, Jan, 2003

Japanese
---
Introduction
MolStat is a software for molecular visualization. MolStat can read Gaussian input and output files, MOPAC input files, TINKER XYZ files, and infrared/raman spectra(J-CAMP DX file). MolStat can show vibrational animation for each normal modes, and is also possible to write out animation as movie file.
This software is provided to you "AS-IS" and without warranty of any kind. You can try this software freely for purpose of personal or academic use. This software is still underdeveloped, and there are still unstabile functions.
---
Snapshot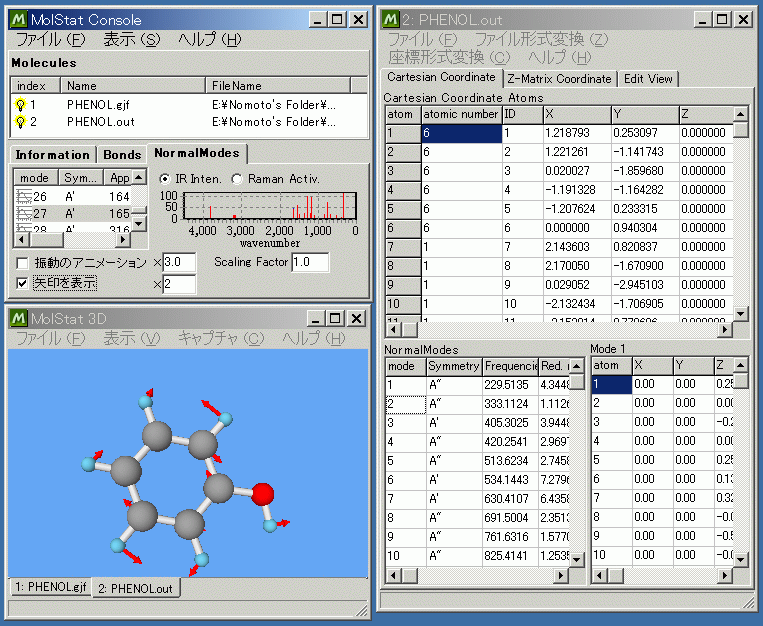 ---
Environment
$B!!(Bprobably Windows95R2/98/Me/NT/2000/XP with fast graphic accerelator
---
Download
---
Install
Extract downloaded archive file.
Executet MolStat.exe in the archive.
---
Usage
Load molecule files from "File" - "Open Molecule"
If molecule is written in cartesian coordinate, the file does not include bonding information, so that click "AutoBondConnection" button to construct bonds.
---
MolStat Animation File (*.mst)
MolStat can visualize animation from MD simulation, etc. For this purpose, there is special file format.
Example

; ";" is symbol of comments
%ATOMCOLOR    8  #FF0000 54.9 ; atom number, color, radius
%ATOMRADIUS   8  54.9 ; atom number, radius
%FILE   1  GAUSSIAN_OUTPUT "Acetone.out"  0 1 0 0 0 1 1 0 0 ; file number, filetype, filename, rotation matrix
%MOL    2  3   010101010  ; molecule number, number of atoms, connection
%COLOR    123 #FF6666  120 ; atom number, color, raeius
%COLOR    12  #66FF66  120
%COLOR    14  #6666FF  120
%MODELTYPE 2 BALL&STICK 0.2 0.1 ; molecule number, modeltype, ball, stick
%TIMESTEP  5.0 ; timestep(fs)
%DATA
%TIME  5.0 ; time (fs)
%FREQ 1 18 1725.15 0.1 ; identifier, mode number, frequency, magnitude
10 1   0.00   0.00   0.00  0.772  0.106  0.627 -0.628  0.286  0.724 -0.102 -0.952  0.287 FREQ 1 ; moltype, file number, posx, posy, posz, 9 rotation matrix elements, frequency identifier 
0 2  14   2.17  -3.63   2.01  12   2.90  -2.94   2.62 123   3.80  -2.09   3.39 ; moltype, molecle number, atom number, x, y, z, (...)
0 2  14   2.28  -3.98  -3.98  12   2.68  -3.32  -3.10 123   3.19  -2.50  -2.00
0 2  14   5.25   0.83   0.82  12   5.78   0.08   0.09 123   6.45  -0.85  -0.82
0 2  14   2.39   1.74   1.90  12   3.01   2.56   2.45 123   3.78   3.59   3.14
0 2  14   2.00   2.17  -3.80  12   2.74   2.53  -2.97 123   3.65   2.97  -1.92
0 2  14  -6.37   0.62   0.60  12  -5.55   0.05  -0.01 123  -4.53  -0.66  -0.77
0 2  14  -3.69  -3.75   2.34  12  -2.94  -3.09   2.94 123  -2.00  -2.26   3.69
0 2  14  -0.71   0.85   6.15  12   0.00   0.18   5.51 123   0.89  -0.65   4.70
0 2  14  -0.86   0.62  -4.84  12  -0.07  -0.05  -5.38 123   0.92  -0.88  -6.06
0 2  14  -3.44  -3.61  -3.78  12  -2.63  -3.08  -3.12 123  -1.62  -2.42  -2.31
0 2  14  -3.73   2.09   2.27  12  -2.84   2.77   2.61 123  -1.72   3.61   3.04
0 2  14  -3.58   2.12  -3.98  12  -2.70   2.56  -3.34 123  -1.60   3.10  -2.54
0 2  14  -0.82   6.35   0.56  12  -0.02   5.87  -0.14 123   0.99   5.27  -1.01
0 2  14  -0.70  -5.08   0.98  12   0.12  -5.67   0.40 123   1.15  -6.41  -0.33

%TIME  10.0
%FREQ 1 18 1724.49 0.1
10 1   0.00   0.00   0.00  0.767  0.118  0.631 -0.631  0.316  0.709 -0.116 -0.942  0.316 FREQ 1 
0 2  14   2.18  -3.65   2.03  12   2.92  -2.96   2.62 123   3.84  -2.11   3.36
0 2  14   2.28  -4.01  -4.01  12   2.67  -3.36  -3.11 123   3.14  -2.55  -2.00
0 2  14   5.25   0.83   0.81  12   5.79   0.08   0.09 123   6.46  -0.86  -0.81
0 2  14   2.41   1.71   1.90  12   3.03   2.55   2.43 123   3.81   3.59   3.09
0 2  14   2.00   2.19  -3.82  12   2.74   2.50  -2.97 123   3.67   2.89  -1.92
0 2  14  -6.38   0.60   0.59  12  -5.54   0.05  -0.01 123  -4.50  -0.64  -0.76
0 2  14  -3.72  -3.77   2.37  12  -2.95  -3.12   2.97 123  -2.00  -2.30   3.71
0 2  14  -0.73   0.86   6.13  12   0.01   0.20   5.50 123   0.92  -0.62   4.72
0 2  14  -0.88   0.60  -4.85  12  -0.06  -0.06  -5.36 123   0.97  -0.88  -6.00
0 2  14  -3.45  -3.61  -3.78  12  -2.61  -3.10  -3.14 123  -1.56  -2.47  -2.34
0 2  14  -3.75   2.10   2.31  12  -2.84   2.77   2.61 123  -1.70   3.61   2.99
0 2  14  -3.59   2.14  -4.01  12  -2.69   2.54  -3.38 123  -1.56   3.04  -2.61
0 2  14  -0.84   6.34   0.54  12  -0.02   5.89  -0.16 123   1.01   5.33  -1.03
0 2  14  -0.71  -5.10   1.01  12   0.14  -5.68   0.44 123   1.19  -6.41  -0.27
      
---
History
| | |
| --- | --- |
| 6 Oct. 2002 | -- MolStat Developing Preview Version 0.901 |
| 19 Nov. 2002 | -- MolStat Developing Preview Version 0.902 |
| 25 Nov. 2002 | -- MolStat Developing Preview Version 0.903 |
| 26 Nov. 2002 | -- MolStat Developing Preview Version 0.904 |
| 3 Dec. 2002 | -- MolStat Developing Preview Version 0.905 |
| 4 Dec. 2002 | -- MolStat Developing Preview Version 0.906 |
| 5 Dec. 2002 | -- MolStat Developing Preview Version 0.907 |
| 12 Dec. 2002 | -- MolStat Developing Preview Version 0.908 |
| 15 Jan 2003 | -- MolStat English 0.908en0 |
| 16 Jan 2003 | -- MolStat English 0.908en1 |
---
Name: NOMOTO Tomonori
URL: http://T.NOMOTO.org/MolStat/
---